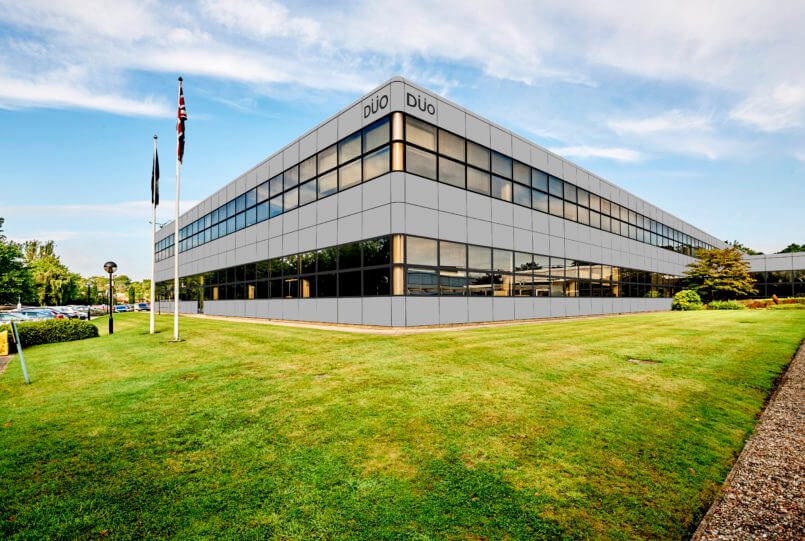 Enquire
Call us on 0845 500 6161
Availability
Offices
from 194 sq ft - 80,000 sq ft
Key Features
Bespoke fit-out available
Space available from 194 sq ft
Raised floor access
Category II and spot lighting
Car parking
Reception area
Two lifts (one passenger and one service)
Description
The newly branded Duo is a two-storey office building with plentiful parking, in a brilliant location, and a great opportunity for any business to upgrade their HQ to a illustrious location.
At Duo, we have office space upwards of 194 sq ft, reaching 80,000 sq ft for the whole building, with the option to install a bespoke fit-out.
You'll be in good company at the former IBM campus too. With neighbours like Royal Mail, Volvo and IBM to name a few, Opus 40 Business Park is a prestigious destination for businesses.
Location
Address
Warwick CV34 5AH, UK
Travel Times
M40 J15 10 minutes drive
Warwick Parkway railway station 0.5 miles
Birmingham International Airport 25 minutes drive
Why FI REM?
With a property portfolio of more than 10 million sq ft and over 40 years' experience in asset and property management, FI Real Estate Management (FIREM) is recognised as one of the UK's most established names in commercial property.
But there's more to us than just providing places to do business.
After moving in, you will be looked after by a dedicated team at FIREM to ensure you receive the best service.
FIREM can also proactively help fuel your business growth via our tenant-to-supplier initiative and by connecting you to our wider business network.
If you are interested in this property and would like to find out more, please fill out our enquiry form and a member from our team will get in touch as soon as possible.
Alternatively, you can contact us directly on 0845 500 61 61.